Arthrose : des traitements à venir aux traitements d'avenir
Osteoarthritis affects hundreds of millions of people worldwide, and its prevalence is constantly increasing. While there is no effective treatment to date, new promising therapeutic strategies and targets are being investigated. Innovative cell therapies are reaching clinical trials, and the most recent progress in our understanding of the pathology is opening new routes for gene therapy. In the long term, the development of new biofabrication tools such as 3D bioprinting might pave the way for the use of personalized mini-joint models that would allow clinicians to screen drugs and personalize treatments. This review offers an overview of the most promising therapeutic approaches in the field of osteoarthritis, from coming treatments to those that are yet to be discovered.
L'arthrose affecte des centaines de millions de personnes à travers le monde et sa prévalence ne fait qu'augmenter. Si aucun traitement ne permet de stopper le développement de l'arthrose à ce jour, de nouvelles stratégies et cibles thérapeutiques sont à l'étude. Ainsi, alors que des thérapies cellulaires de nouvelle génération font d'ores et déjà l'objet d'études cliniques, l'amélioration de la compréhension de cette pathologie ouvre la voie à de possibles thérapies géniques. À plus long terme, le développement d'outils de biofabrication tels que la bio-impression 3D permettent d'entrevoir l'utilisation de modèles personnalisés de mini-articulations pour le criblage de principes actifs et l'application de traitements sur mesure. Cette revue propose un tour d'horizon des approches thérapeutiques les plus prometteuses pour traiter l'arthrose, des traitements à venir à ceux qu'il reste à découvrir.
Fichier principal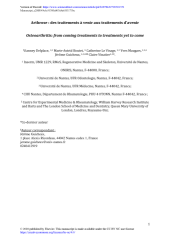 S1878622720301351.pdf (467.87 Ko)
Télécharger le fichier
Origin : Files produced by the author(s)