Anatomical and functional MR imaging to define tumoral boundaries and characterize lesions in neuro-oncology
Neuroimaging and especially MRI has emerged as a necessary imaging modality to detect, measure, characterize and monitor brain tumors. Advanced MRI sequences such as perfusion MRI, diffusion MRI and spectroscopy as well as new post-processing techniques such as automatic segmentation of tumors and radiomics play a crucial role in characterization and follow up of brain tumors. The purpose of this review is to provide an overview on anatomical and functional MR imaging use for brain tumors boundaries determination and tumor characterization in the specific context of radiotherapy. The usefulness of anatomical and functional MR imaging on particular challenges posed by radiotherapy such as pseudoprogression and pseudoresponse and new treatment strategies such as dose painting is also described.
Les avancées en neuro-imagerie, principalement liées au développement de l'IRM, ont rendu cette modalité centrale dans la prise en charge des patients porteurs de tumeur cérébrale. L'IRM, par son approche anatomique, permet de détecter, localiser et caractériser les lésions. L'application de séquences avancées d'IRM de type imagerie de perfusion, de spectroscopie ou de diffusion, ainsi que les nouveaux post-traitements permettant une segmentation ou une caractérisation automatique des lésions, apportent de nouvelles possibilités pour affiner la caractérisation des tumeurs tant au moment du diagnostic initial que lors du traitement par radiothérapie et du suivi. Le but de cette revue de littérature est de donner un aperçu de l'utilisation des imageries IRM anatomique et fonctionnelle utilisées pour la détermination des contours des différentes tumeurs cérébrales dans le contexte particulier de la radiothérapie. L'utilité de l'IRM anatomique et fonctionnelle est également examinée, en portant une attention particulière aux défis posés par la radiothérapie, tels que la pseudoprogression et la pseudoréponse, ainsi que par de nouvelles stratégies de traitement personnalisées, comme la dose painting.
Fichier principal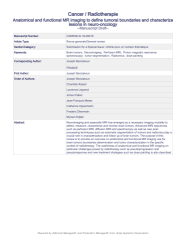 Ben Zakoun et al 2020_CANRAD-D-19-00218.pdf (4.44 Mo)
Télécharger le fichier
Origin : Files produced by the author(s)