[Molecular heterogeneity of malignant pleural mesotheliomas].
Hétérogénéité moléculaire des mésothéliomes pleuraux malins
Malignant pleural mesothelioma (MPM) is predominantly an occupational cancer, most often linked to asbestos exposure. Malignant pleural mesothelioma prognosis is poor with a short survival median, due to the aggressiveness of tumor cells and the weak efficiency of conventional anti-cancer therapies. Clinical, histological, and molecular data suggest tumor heterogeneity between patients as it was also shown for other cancer types. Consequently, there is an urgent need to develop new therapies that take into account this heterogeneity and the molecular characteristics of malignant pleural mesothelioma, in particular by identifying new anti-cancer drugs targeting the molecular specificities of each malignant pleural mesothelioma. Malignant pleural mesothelioma is characterized by numerous molecular alterations at the chromosomal, genetic and epigenetic levels. Molecular classification based on gene expression profile has firstly defined two tumor groups, C1 and C2, and more recently, four groups. By integrating genetic and transcriptomic analysis, a C2LN tumor subgroup of the C2 group has been identified and characterized. In addition to tumor heterogeneity between patients, intra-tumor heterogeneity is supported by several evidences. Most therapeutic strategies that take into account the tumor molecular characteristics have focused on targeted therapies based on mutated genes. A more appropriate strategy would be to consider better-defined tumor groups on the basis of several molecular alterations types as it has been proposed for the C2LN subgroup. A robust definition of homogeneous tumor groups sharing common molecular characteristics is necessary for the development of effective precision medicine for malignant pleural mesothelioma.
Le mésothéliome pleural malin (MPM) est un cancer majoritairement d'origine professionnelle, lié le plus souvent à une exposition à l'amiante. Le pronostic du MPM est sombre avec une médiane de survie courte, car ce cancer est très agressif et les thérapies conventionnelles anti-cancéreuses sont peu efficaces. Comme pour d'autres types de cancer, les données cliniques, histologiques et moléculaires suggèrent l'existence d'une hétérogénéité tumorale entre les patients. Il est donc urgent de développer de nouvelles thérapies qui prennent en compte cette hétérogénéité et les caractéristiques moléculaires des MPM, notamment en identifiant de nouveaux agents anti-cancéreux ciblant les spécificités moléculaires de chaque MPM. Le MPM est caractérisé par de nombreuses altérations moléculaires au niveau chromosomique, génétique et épigénétique. Une classification moléculaire sur la base du profil d'expression génique a défini deux groupes tumoraux C1 et C2 et, plus récemment, quatre groupes. En couplant analyse génétique et transcriptomique, un sous-groupe tumoral C2LN du groupe C2 a été identifié et caractérisé. Outre l'hétérogénéité entre les tumeurs des patients, de nombreuses évidences supportent également l'existence d'une hétérogénéité intra-tumorale. La plupart des stratégies thérapeutiques prenant en compte les caractéristiques moléculaires de la tumeur ont proposé des thérapies ciblées visant les gènes présentant des mutations. Il pourrait être plus judicieux de cibler des groupes tumoraux mieux définis, en intégrant plusieurs types d'altérations moléculaires, comme cela a été proposé pour le sousgroupe C2LN. Une définition robuste de groupes homogènes de tumeurs partageant des caractéristiques moléculaires communes est nécessaire au développement d'une médecine de précision efficace pour le MPM.
Fichier principal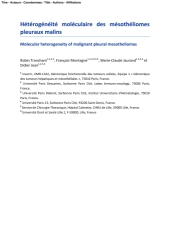 BULCAN-S-17-00332 sou.pdf (2.27 Mo)
Télécharger le fichier
Origin : Files produced by the author(s)