LGBT rights in a Republic of Therapy. HIV/AIDS policies and the redefinition of citizenship in Cameroon
The links between the fight against HIV/AIDS, and lesbian, gay, bisexual and transgender (LGBT) mobilizations around the world have been extensively demonstrated. However, there are few empirical studies on the effects of new strategies based on access to treatments for homosexuals in Africa, especially in countries where same-sex relationships are punishable by law. In discussing the relationship between HIV/AIDS policies and the formal recognition and inclusion of homosexuals, we ask if it is possible to speak of a therapeutic citizenship. From a sociological and legal perspective, what is important is how the recent global strategies and human rights discourses on HIV/AIDs are impacting the emergence of engaged social actors whose claims go well beyond access to treatments but challenge the Cameroonian legal and health systems. However, LGBT rights advocates' claim for full citizenship through participatory inclusion in public life may not turn out to be successful as it encloses their rights within a pathologized identity, the HIV epidemic. This paper also raises a crucial issue (citizenship) associated with the politics of homosexuality in Africa and offers an empirical dimension on how global health and human rights discourses affect the relationship between State and society in Cameroon.
Les liens entre la lutte contre le VIH/SIDA et les mobilisations LGBT dans le monde entier ont été largement démontrés. Cependant, il existe quelques études empiriques relatives aux effets de nouvelles stratégies fondées sur l'accès aux traitements pour les homosexuels en Afrique, en particulier dans des pays où les relations entre partenaires de même sexe sont sanctionnées par la loi. Discuter de la relation entre les politiques en matière d'VIH/SIDA et la reconnaissance et l'inclusion formelle des homosexuels, est l'occasion de nous demander s'il est possible de parler d'une citoyenneté thérapeutique. D'un point de vue sociologique et juridique, ce qui importante est la façon dont les stratégies mondiales récentes et les discours sur les Droits de l'homme sur les VIH/SIDA ont un impact sur l'émergence d'acteurs sociaux engagés dont les revendications dépassent largement l'accès aux traitements et questionnent les systèmes juridiques et de santé du Cameroun. Cependant, la prétention des défenseurs des droits des LGBT revendiquant une citoyenneté complète à travers une inclusion participative dans la vie publique pourrait ne pas réussir puisque cela enferme leurs droits dans une identité pathologisée, l'épidémie de VIH. Cet article soulève aussi une question essentielle (citoyenneté) associée aux politiques relatives à l'homosexualité en Afrique et présente une dimension empirique sur la façon dont les discours mondiaux sur la santé et les droits de l'homme affectent la relation entre l'Etat et la société au Cameroun.
Fichier principal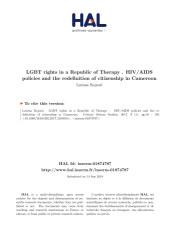 3. LGBT rights in a Republic of Therapy HIV AIDS policies and the redefinition of citizenship in Cameroon(1) (1).pdf (575.4 Ko)
Télécharger le fichier
Origin : Files produced by the author(s)