In the absence of its cytosolic domain, the CD28 molecule still contributes to T cell activation
The CD28 costimulatory receptor has a pivotal role in T cell biology as this molecule amplifies T cell receptor (TCR) signals to provide an efficient immune T cell response. There is a large debate about how CD28 mediates these signals. Here, we designed a CD28 gene targeted knock-in mouse strain lacking the cytoplasmic tail of CD28. As is the case in CD28-deficient (CD28 knockout) mice, regulatory T cell homeostasis and T cell activation are altered in these CD28 knock-in mice. Unexpectedly, the presence of a CD28 molecule deprived of its cytoplasmic tail could partially induce some early activation events in T cells such as signaling events or expression of early activation markers. These results unravel a new mechanism of T cell costimulation by CD28, independent of its cytoplasmic tail.
Fichier principal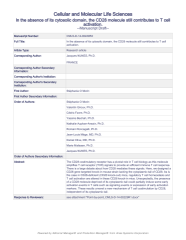 CMLS-D-14-00229.pdf (1.63 Mo)
Télécharger le fichier
Origin : Files produced by the author(s)
Comment : Digital Object Identifier (DOI) 10.1007/s00018-015-1873-7 The final publication is available at link.springer.com .