Effects of established BMI-associated loci on obesity-related traits in a French representative population sample
Background
Genome-wide association studies have identified variants associated with obesity-related traits, such as the body mass index (BMI). We sought to determine how the combination of 31 validated, BMI-associated loci contributes to obesity- and diabetes-related traits in a French population sample. The MONA LISA Lille study (1578 participants, aged 35-74) constitutes a representative sample of the population living in Lille (northern France). Genetic variants were considered both individually and combined into a genetic predisposition score (GPS).
Results
Individually, 25 of 31 SNPs showed directionally consistent effects on BMI. Four loci (FTO, FANCL, MTIF3 and NUDT3) reached nominal significance (p ≤ 0.05) for their association with anthropometric traits. When considering the combined effect of the 31 SNPs, each additional risk allele of the GPS was significantly associated with an increment in the mean [95% CI] BMI of 0.13 [0.07-0.20] kg/m2 (p = 6.3x10-5) and a 3% increase in the risk of obesity (p = 0.047). The GPS explained 1% of the variance in the BMI. Furthermore, the GPS was associated with higher fasting glycaemia (p = 0.04), insulinaemia (p = 0.008), HbA1c levels (p = 0.01) and HOMA-IR scores (p = 0.0003) and a greater risk of type 2 diabetes (OR [95% CI] = 1.06 [1.00-1.11], p = 0.03). However, these associations were no longer statistically significant after adjustment for BMI.
Conclusion
Our results show that the GPS was associated with a higher BMI and an insulin-resistant state (mediated by BMI) in a population in northern France.
Fichier principal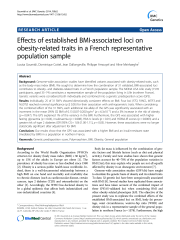 1471-2156-15-62.pdf (167.81 Ko)
Télécharger le fichier
1471-2156-15-62-S1.doc (194 Ko)
Télécharger le fichier
1471-2156-15-62.xml (51.71 Ko)
Télécharger le fichier
Origin : Publisher files allowed on an open archive