Functional outcome and prognostic factors in anti-Jo1 patients with antisynthetase syndrome
Introduction
The aims of this present study were firstly to assess the outcome, including functional course, in anti-Jo1 positive patients with antisynthetase syndrome (ASS), and secondly to determine predictive parameters of poor outcome in these patients.
Methods
The medical records of 86 consecutive anti-Jo1 patients with ASS were reviewed in 4 academic centers.
Results
13 patients (15.1%) achieved remission of ASS, whereas 55 (63.9%) improved and 18 (20.9%) deteriorated in their clinical status. Both steroid and cytotoxic drugs could be discontinued in only 4.7% of patients. ASS was associated with decreased quality of life at long-term follow-up: only 69.2% of patients considered to be in remission experienced a return to previous normal activities; and 24.7% of other patients with non-remitting ASS still had a marked reduction of activities (as shown by the disability scale of the Health Assessment Questionnaire). Decreased quality of life was further due to calcinosis cutis (8.1%) and adverse effects of steroid therapy (36%). Factors associated with ASS deterioration were older age, pulmonary and esophageal involvement, calcinosis cutis and cancer. Higher anti-Jo1 levels were further associated with disease severity in ASS patients.
Conclusions
The present study shows high morbidity related to ASS. Furthermore, we suggest that patients with predictive factors of ASS deterioration may require more aggressive therapy. Our findings also suggest that in anti-Jo1 patients with severe esophageal manifestations, combined high dose steroids and intravenous immunoglobulins might be proposed as the first line therapy. Finally, as cancer occurred in 14% of anti-Jo1 patients, our findings underscore that the search for cancer should be performed in these patients.
Fichier principal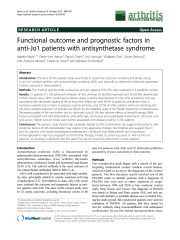 ar4332.pdf (219.75 Ko)
Télécharger le fichier
ar4332.xml (92.91 Ko)
Télécharger le fichier
Origin : Publisher files allowed on an open archive