Processing of meats and cardiovascular risk: time to focus on preservatives
Dietary guidelines emphasize selecting lean (low-fat) meats to reduce saturated fat and cholesterol, but growing evidence suggests that health effects may relate to other ingredients, such as sodium, heme iron, or L-carnitine. Understanding how meats influence health, and on which nutrients this relationship depends, is essential to advise consumer choices, set guidelines, and inform food reformulations. A recent study published in BMC Medicine involving 448,568 participants in 10 European countries, provides important evidence in this regard. After multivariate adjustment, intake of unprocessed red meat was not significantly associated with total or cause-specific mortality; conversely, intake of processed meat was associated with a 30% higher rate of cardiovascular disease (CVD) (per 50 g/day, relative risk 1.30, 95% confidence interval 1.17 to 1.45) and also higher cancer mortality. These findings are consistent with our previous meta-analysis, based on smaller studies, showing strong associations of processed meats, but not unprocessed meats, with CVD. Preservatives are the notable difference; the calculated blood-pressure effects of sodium differences (around 400% higher in processed meats) explain most of the observed higher risk. Although unprocessed red meats seem to be relatively neutral for CVD, healthier choices are available, including fish, nuts, legumes, fruits, and vegetables. Public-health guidance should prioritize avoidance of processed meats, including the low-fat deli meats currently marketed as healthy choices, and the food industry should substantially reduce sodium and other preservatives in processed meats.
See related research article here http://www.biomedcentral.com/1741-7015/11/63.
Fichier principal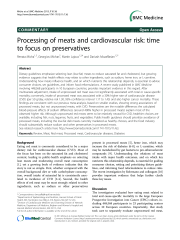 1741-7015-11-136.pdf (116.1 Ko)
Télécharger le fichier

1741-7015-11-136.xml (27.88 Ko)
Télécharger le fichier
Origin : Publisher files allowed on an open archive