Evidence for new targets and synergistic effect of metronomic celecoxib/fluvastatin combination in pilocytic astrocytoma
Background
Pilocytic astrocytomas occur predominantly in childhood. In contrast to the posterior fossa location, hypothalamo-chiasmatic pilocytic astrocytomas display a worse prognosis often leading to multiple surgical procedures and/or several lines of chemotherapy and radiotherapy to achieve long-term control. Hypothalamo-chiasmatic pilocytic astrocytomas and cerebellar pilocytic astrocytomas have a distinctive gene signature and several differential expressed genes (ICAM1, CRK, CD36, and IQGAP1) are targets for available drugs: fluvastatin and/or celecoxib.
Results
Quantification by RT-Q-PCR of the expression of these genes was performed in a series of 51 pilocytic astrocytomas and 10 glioblastomas: they were all significantly overexpressed in hypothalamo-chiasmatic pilocytic astrocytomas relative to cerebellar pilocytic astrocytomas, and CRK and ICAM1 were significantly overexpressed in pilocytic astrocytomas versus glioblastomas.
We used two commercially available glioblastoma cell lines and three pilocytic astrocytoma explant cultures to investigate the effect of celecoxib/fluvastatin alone or in combination. Glioblastoma cell lines were sensitive to both drugs and a combination of 100 μM celecoxib and 240 μM fluvastatin was the most synergistic. This synergistic combination was used on the explant cultures and led to massive cell death of pilocytic astrocytoma cells.
As a proof of concept, a patient with a refractory multifocal pilocytic astrocytoma was successfully treated with the fluvastatin/celecoxib combination used for 18 months. It was well tolerated and led to a partial tumor response.
Conclusion
This study reports evidence for new targets and synergistic effect of celecoxib/fluvastatin combination in pilocytic astrocytoma. Because it is non-toxic, this new strategy offers hope for the treatment of patients with refractory pilocytic astrocytoma.
Fichier principal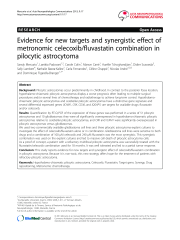 2051-5960-1-17.pdf (502.16 Ko)
Télécharger le fichier
2051-5960-1-17-S1.PDF (14.11 Ko)
Télécharger le fichier
2051-5960-1-17.xml (93.95 Ko)
Télécharger le fichier
Origin : Publisher files allowed on an open archive