Impact of methylene blue and atorvastatin combination therapy on the apparition of cerebral malaria in a murine model
Background
Proveblue®, a methylene blue dye that complies with European Pharmacopoeia and contains limited organic impurities and heavy metals of recognized toxicity, showed in vitro synergy against Plasmodium falciparum when combined with atorvastatin, an inhibitor of 3-hydroxy-3-methylglutaryl-Coenzyme A reductase. The objective of this study was to evaluate the in vivo efficacy of Proveblue® when combined with atorvastatin in a murine model of experimental cerebral malaria.
Methods
Forty female C57Bl6/N mice were divided into four groups (control, atorvastatin 40 mg/kg for seven days, Proveblue® 10 mg/kg for five days and atorvastatin combined with Proveblue®), infected with Plasmodium berghei ANKA parasites by intraperitoneal inoculation and observed for 45 days.
Results
Treatment with atorvastatin alone did not demonstrate an effect significantly different from no treatment (p = 0.0573). All the mice treated by atorvastatin alone died. Treatment with Proveblue® or a combination of Proveblue® and atorvastatin was significantly increased survival of cerebral malaria (p = 0.0011 and 0.0002, respectively). Although there was only one death in the atorvastatin and Proveblue® combination treatment group (10%) versus two deaths (22%) with Proveblue® treatment, the effect on cerebral malaria was not significant (p = 0.283).
Conclusions
The present work demonstrated, for the first time, the high efficacy of Proveblue® in preventing cerebral malaria. Atorvastatin alone or in combination appears to possess limited use for preventing cerebral malaria. Combination of atorvastatin with lower doses of Proveblue® ( < 10 mg/kg/day) should be evaluated to show potential synergistic effects in cerebral malaria prevention.
Fichier principal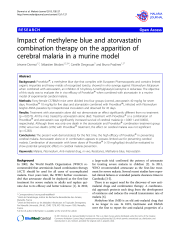 1475-2875-12-127.pdf (248.55 Ko)
Télécharger le fichier

1475-2875-12-127.xml (50.63 Ko)
Télécharger le fichier
Origin : Publisher files allowed on an open archive