Key role of water-insoluble allergens of pollen cytoplasmic granules in biased allergic response in a rat model
Background
Grass pollen grain, an important aeroallergen, can disperse in the environment pollen cytoplasmic granules (PCGs) able to release water-soluble allergens when they are washed out by rainfall. The allergenicity of these washed PCGs is, however, preserved.
Objective
The purpose of the study was to assess the allergenic potential of washed and unwashed PCGs, from Phleum pratense pollen grains, in the Brown Norway rat, and to study the IgE reactivity of sera of sensitized rats to water-soluble and water-insoluble extracts of PCGs and pollen grains.
Methods
Rats were sensitized and challenged intratracheally with washed or unwashed PCGs or pollen grains. Using water-soluble and -insoluble extracts of pollen grains and/or PCGs, IgE ELISA and immunoblotting were performed with rat sera. Proliferation of bronchial lymph node cells was monitored by [3H]-thymidine incorporation in a lymph node assay. Alveolar cells, proteins, and TH1 and TH2 cytokines were quantified in bronchoalveolar lavage fluid.
Results
Rats sensitized with unwashed PCGs showed a predominant humoral response with high serum IgE and reactivity to water-soluble and -insoluble proteins together with low lymph node cell proliferation. Conversely, in rats sensitized to washed PCGs, cellular responses were higher with significant increases in eosinophils, lymphocytes, and TH2 cytokines observed in bronchoalveolar lavage fluid.
Conclusion
Allergic and inflammatory responses were induced by both grass pollen grains and their isolated washed and unwashed PCGs. However, on the basis of humoral and cellular responses, differential patterns were observed. Water-insoluble allergens seem to play a role in the centrally mediated inflammatory response, whereas water-soluble allergens may be involved in the peripheral humoral response.
Fichier principal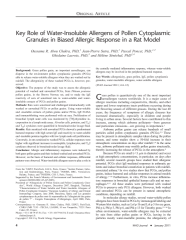 1939-4551-4-1-4.pdf (463.86 Ko)
Télécharger le fichier
1939-4551-4-1-4.xml (72.43 Ko)
Télécharger le fichier
Origin : Publisher files allowed on an open archive