High number of CD56bright NK-cells and persistently low CD4+ T-cells in a hemophiliac HIV/HCV co-infected patient without opportunistic infections
Background
Both the human immunodeficiency virus (HIV) and hepatitis C virus (HCV), either alone or as coinfections, persist in their hosts by destroying and/or escaping immune defenses, with high morbidity as consequence. In some cases, however, a balance between infection and immunity is reached, leading to prolonged asymptomatic periods. We report a case of such an indolent co-infection, which could be explained by the development of a peculiar subset of Natural Killer (NK) cells.
Results
Persistently high peripheral levels of CD56+ NK cells were observed in a peculiar hemophiliac HIV/HCV co-infected patient with low CD4 counts, almost undetectable HIV viral load and no opportunistic infections. Thorough analysis of NK-subsets allowed to identify a marked increase in the CD56bright/dim cell ratio and low numbers of CD16+/CD56- cells. These cells have high levels of natural cytotoxicity receptors but low NCR2 and CD69, and lack both CD57 and CD25 expression. The degranulation potential of NK-cells which correlates with target cytolysis was atypically mainly performed by CD56bright NK-cells, whereas no production of interferon γ (IFN-γ) was observed following NK activation by K562 cells.
Conclusions
These data suggest that the expansion and lytic capacity of the CD56bright NK subset may be involved in the protection of this " rare " HIV/HCV co-infected hemophiliac A patient from opportunistic infections and virus-related cancers despite very low CD4+ cell counts.
Fichier principal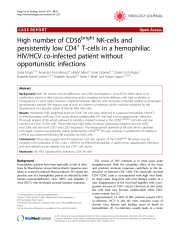 1743-422X-10-33.pdf (557.53 Ko)
Télécharger le fichier
1743-422X-10-33.xml (43.05 Ko)
Télécharger le fichier
Origin : Publisher files allowed on an open archive