New biomarkers for stage determination in Trypanosoma brucei rhodesiense sleeping sickness patients
Accurate stage determination is crucial in the choice of treatment for patients suffering from sleeping sickness, also known as human African trypanosomiasis (HAT). Current staging methods, based on the counting of white blood cells (WBC) and the detection of parasites in the cerebrospinal fluid (CSF) have limited accuracy. We hypothesized that immune mediators reliable for staging T. b. gambiense HAT could also be used to stratify T. b. rhodesiense patients, the less common form of HAT.
A population comprising 85 T. b. rhodesiense patients, 14 stage 1 (S1) and 71 stage 2 (S2) enrolled in Malawi and Uganda, was investigated. The CSF levels of IgM, MMP-9, CXCL13, CXCL10, ICAM-1, VCAM-1, neopterin and B2MG were measured and their staging performances evaluated using receiver operating characteristic (ROC) analyses.
IgM, MMP-9 and CXCL13 were the most accurate markers for stage determination (partial AUC 88%, 86% and 85%, respectively). The combination in panels of three molecules comprising CXCL13-CXCL10-MMP-9 or CXCL13-CXCL10-IgM significantly increased their staging ability to partial AUC 94% (p value < 0.01).
The present study highlighted new potential markers for stage determination of T. b. rhodesiense patients. Further investigations are needed to better evaluate these molecules, alone or in panels, as alternatives to WBC to make reliable choice of treatment.
Fichier principal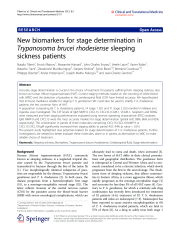 2001-1326-2-1.pdf (335.21 Ko)
Télécharger le fichier
2001-1326-2-1-S1.PDF (133.4 Ko)
Télécharger le fichier
2001-1326-2-1.xml (82.67 Ko)
Télécharger le fichier
Origin : Publisher files allowed on an open archive