Age-related changes in ultra-triathlon performances
Background
The age-related decline in performance has been investigated in swimmers, runners and triathletes. No study has investigated the age-related performance decline in ultra-triathletes. The purpose of this study was to analyse the age-related declines in swimming, cycling, running and overall race time for both Triple Iron ultra-triathlon (11.4-km swimming, 540-km cycling and 126.6-km running) and Deca Iron ultra-triathlon (38-km swimming, 1,800-km cycling and 420-km running).
Methods
The age and performances of 423 male Triple Iron ultra-triathletes and 119 male Deca Iron ultra-triathletes were analysed from 1992 to 2010 using regression analyses and ANOVA.
Results
The mean age of the finishers was significantly higher for Deca Iron ultra-triathletes (41.3 ± 3.1 years) compared to a Triple Iron ultra-triathletes (38.5 ± 3.3 years) (P < 0.05). For both ultra-distances, the fastest overall race times were achieved between the ages of 25 and 44 years. Deca Iron ultra-triathletes achieved the same level of performance in swimming and cycling between 25 and 54 years of age.
Conclusions
The magnitudes of age-related declines in performance in the three disciplines of ultra-triathlon differ slightly between Triple and Deca Iron ultra-triathlon. Although the ages of Triple Iron ultra-triathletes were on average younger compared to Deca Iron ultra-triathletes, the fastest race times were achieved between 25 and 44 years for both distances. Further studies should investigate the motivation and training of ultra-triathletes to gain better insights in ultra-triathlon performance.
Fichier principal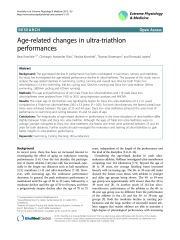 2046-7648-1-5.pdf (209.15 Ko)
Télécharger le fichier
2046-7648-1-5.xml (84.11 Ko)
Télécharger le fichier
Origin : Publisher files allowed on an open archive