ATP-binding cassette transporters in immortalised human brain microvascular endothelial cells in normal and hypoxic conditions
Background
Rapid reperfusion following ischemia is the most effective therapy in stroke therapy. However, the success may be compromised by ischemia & reperfusion (I/R) injury and at the human blood-brain barrier (BBB), therefore the effects on transendothelial transport are of special interest. Current studies suggest the ATP-binding cassette (ABC) transporters to be regulated upon ischemic stroke in a way that impedes the effects of drug therapy. The immortalised human brain microvascular endothelial cell line hCMEC/D3 provides most of the unique properties of the BBB with respect to transport and might be a reliable in vitro model to study transendothelial transport after I/R.
Methods
We exposed hCMEC/D3 cells to 24 hours of hypoxia alone and to hypoxia followed by 60 min of reoxygenisation as an in vitro model for I/R. Western blot showed mild upregulation of hypoxia inducible factor (HIF-1α) after hypoxia alone and RNA lysates were analysed with a well-established real-time RT-PCR-based TaqMan low-density array detecting 47 of 48 known human ABC transporters.
Results
No significant increases of ABC mRNA expression levels were detected neither in hypoxic nor in I/R samples. However, slight decrease of ABCC1 in hypoxic and I/R samples and of ABCA10 and ABCD3 in I/R samples was observed.
Conclusion
Our data suggests that hCMEC/D3 cell line and - at the moment - in vitro models in general are a poor basis for stroke research but may be enhanced by co-culturing more cells of the neurovascular unit inducing an overall ischemic response at the BBB.
Fichier principal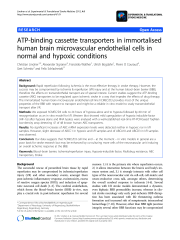 2040-7378-4-9.pdf (336.24 Ko)
Télécharger le fichier
2040-7378-4-9.xml (90.21 Ko)
Télécharger le fichier
Origin : Publisher files allowed on an open archive