A combination of methotrexate and zoledronic acid prevents bone erosions and systemic bone mass loss in collagen induced arthritis
Introduction
Osteoclasts play a key role in the pathogenesis of bone erosion and systemic bone mass loss during rheumatoid arthritis (RA). In this study, we aimed to determine the effect of methotrexate (MTX) and zoledronic acid (ZA), used alone or in combination, on osteoclast-mediated bone erosions and systemic bone mass loss in a rat model of collagen induced arthritis (CIA). We hypothesized that MTX and ZA could have an additive effect to prevent both bone erosion and systemic bone loss.
Methods
Arthritis was induced in 64 female Sprague-Dawley rats. After the clinical onset of CIA, rats were assigned to treatment with MTX (1 mg/kg/week), ZA (100 μg/kg twice weekly), both treatments at the same regimens, or vehicle. Arthritis score and paw thickness were recorded twice weekly. The rats were sacrificed on D28 and hind paws were removed for radiographic, histological and immunohistochemical analysis. The effects of treatments on osteoclastogenesis were determined by Tartrate resistant acid phosphatase (TRAP) staining. Micro-CT of the tibia was carried out for histomorphometric analysis. Bone mass density was evaluated by densitometry.
Results
MTX significantly decreased the severity of CIA, whereas ZA slightly exacerbated it. When these two drugs were used in combination, MTX prevented the pro-inflammatory effect of ZA. The combination of ZA with MTX was more effective than MTX alone for reducing structural joint damage with a dramatic decrease of osteoclasts' number in the eroded joints. However, MTX alone also significantly reduced the number of osteoclasts and the number of CD68+ mononuclear cells. ZA alone, or ZA with MTX, significantly increased the systemic bone mass density measured by densitometry and bone volume on histomorphometric analysis.
Conclusions
A combination of MTX and ZA prevented both bone erosion and systemic bone loss in a rat model of arthritis. Both treatments independently decreased the number of osteoclasts in the eroded joint. However, while MTX probably acts mainly through a decrease of inflammation, ZA has a direct effect on osteoclasts, allowing a dramatic down-regulation of these cells in inflamed joints. These two different mechanisms of action provide support for the use of a combination of these two drugs to improve the prevention of structural joint damage in RA.
Fichier principal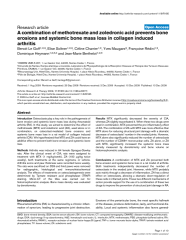 ar2877.pdf (1.14 Mo)
Télécharger le fichier
ar2877.xml (103.39 Ko)
Télécharger le fichier
Origin : Publisher files allowed on an open archive