Specific involvement of atypical PKCζ/PKMζ in spinal persistent nociceptive processing following peripheral inflammation in rat
Background
Central sensitization requires the activation of various intracellular signalling pathways within spinal dorsal horn neurons, leading to a lowering of activation threshold and enhanced responsiveness of these cells. Such plasticity contributes to the manifestation of chronic pain states and displays a number of features of long-term potentiation (LTP), a ubiquitous neuronal mechanism of increased synaptic strength. Here we describe the role of a novel pathway involving atypical PKCζ/PKMζ in persistent spinal nociceptive processing, previously implicated in the maintenance of late-phase LTP.
Results
Using both behavioral tests and in vivo electrophysiology in rats, we show that inhibition of this pathway, via spinal delivery of a myristoylated protein kinase C-ζ pseudo-substrate inhibitor, reduces both pain-related behaviors and the activity of deep dorsal horn wide dynamic range neurons (WDRs) following formalin administration. In addition, Complete Freund's Adjuvant (CFA)-induced mechanical and thermal hypersensitivity was also reduced by inhibition of PKCζ/PKMζ activity. Importantly, this inhibition did not affect acute pain or locomotor behavior in normal rats and interestingly, did not inhibited mechanical allodynia and hyperalgesia in neuropathic rats. Pain-related behaviors in both inflammatory models coincided with increased phosphorylation of PKCζ/PKMζ in dorsal horn neurons, specifically PKMζ phosphorylation in formalin rats. Finally, inhibition of PKCζ/PKMζ activity decreased the expression of Fos in response to formalin and CFA in both superficial and deep laminae of the dorsal horn.
Conclusions
These results suggest that PKCζ, especially PKMζ isoform, is a significant factor involved in spinal persistent nociceptive processing, specifically, the manifestation of chronic pain states following peripheral inflammation.
Fichier principal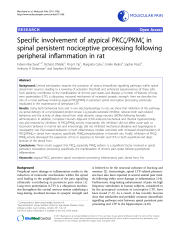 1744-8069-7-86.pdf (3.8 Mo)
Télécharger le fichier
1744-8069-7-86.xml (97.8 Ko)
Télécharger le fichier
Origin : Publisher files allowed on an open archive