Characterization of the age-dependent intervertebral disc changes in rabbit by correlation between MRI, histology and gene expression
Background
The present study was conducted to address whether the intervertebral disc of rabbit could be considered (i) as a valuable model to provide new insights into the tissue and cellular changes of Nucleus pulposus aging and (ii) as an appropriate tool to investigate the efficacy of Nucleus pulposus cell-based biotherapies.
Methods
Lumbar intervertebral disc from rabbits with increasing ages (1, 6 and 30 month-old) were compared by MRI and histological observation using Pfirrmann's grading and Boos' scoring respectively. The expression of transcripts (COL2A1, AGC1, COL1A1, MMP13, BMP2, MGP and p21) in Nucleus pulposus cells were analysed by quantitative real-time PCR.
Results
MRI analysis indicated an early age-dependent increase in the Pfirrmann's grading. Histological Boos' scoring was also increased. The analysis of transcript expression levels showed that COL2A1 and AGC1 were down-regulated as a function of age. Conversely, COL1A1, MMP-13, BMP-2, MGP and p21 were significantly up-regulated in the Nucleus pulposus cells of aged rabbit intervertebral disc.
Conclusions
Our study describes the consistency of the rabbit as a model of intervertebral disc changes as a function of age by correlating tissue alteration with cellular modification measured.
Fichier principal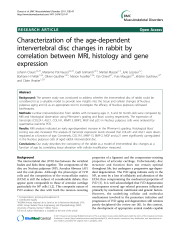 1471-2474-12-147.pdf (652.36 Ko)
Télécharger le fichier

1471-2474-12-147.xml (57.4 Ko)
Télécharger le fichier
Origin : Publisher files allowed on an open archive